Build your own personalized
Corporate Metaverse
Discover the features that create Virtual Presence.
You can choose the gender of your character
To make your avatar photorealistic, Teemew generates your face in 3D simply by using a photo of yourself.
If you don't have a photo available, you can choose between several faces by default
Select your hairstyle, facial hair features, glasses, etc. if you wish
Choose your outfit according to your tastes and desires: type of clothing, shoes, colours, etc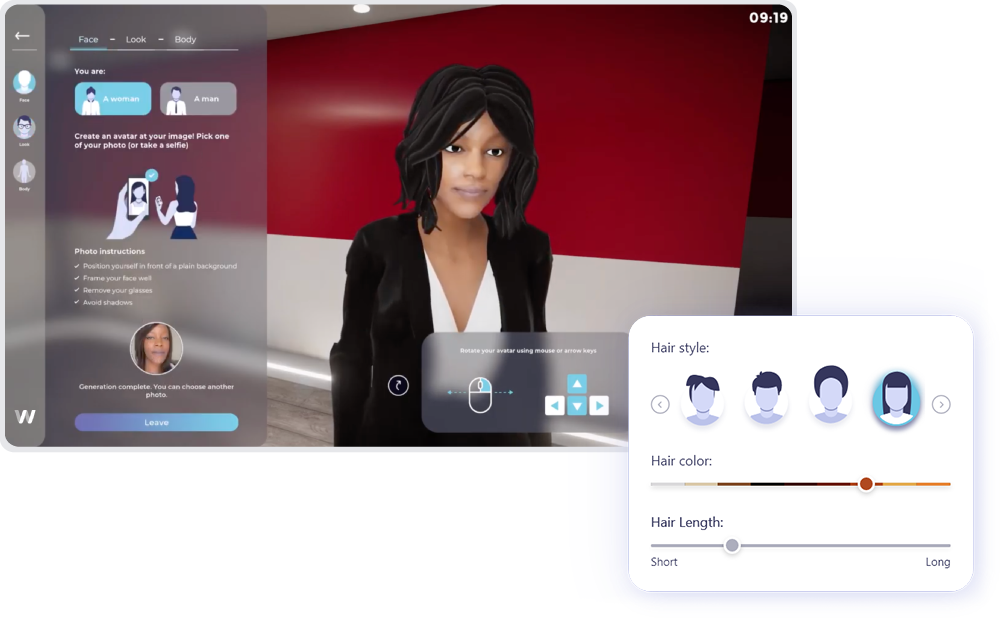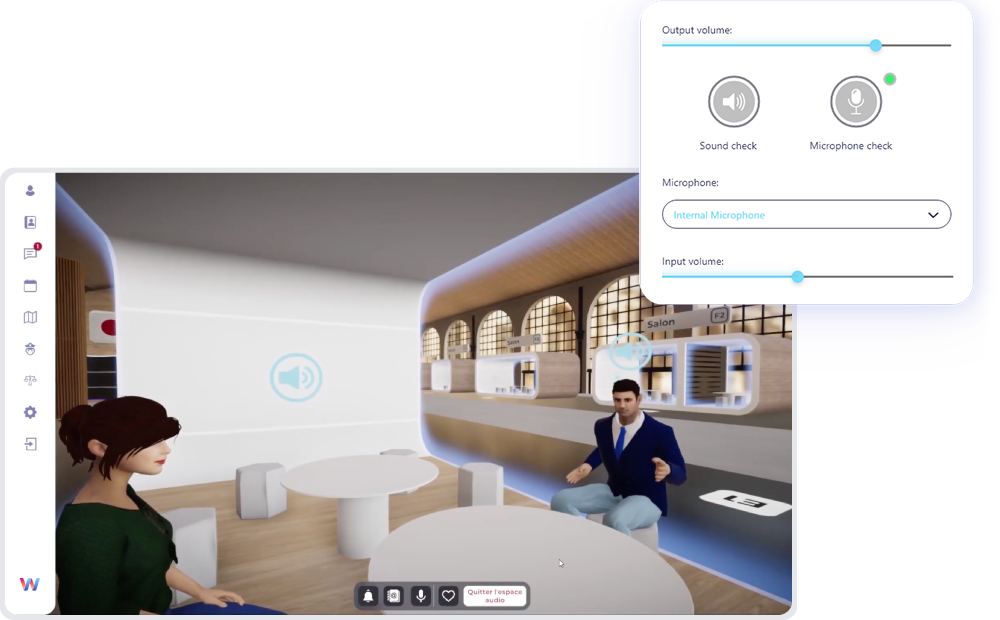 You can have natural conversations with all your contacts, at any time and anywhere in the room
In chat rooms, the sound is spacialised: you hear the person according to where they are sitting in relation to you
To enhance the feeling of immersion, your avatar moves when you speak
A very complete chat set-up, with private or group conversations
Several actions are possible in the chat: adding a person to the conversation, downloading a business card, blocking or reporting the person in case of concern
In each space, there is a public chat facility for addressing everyone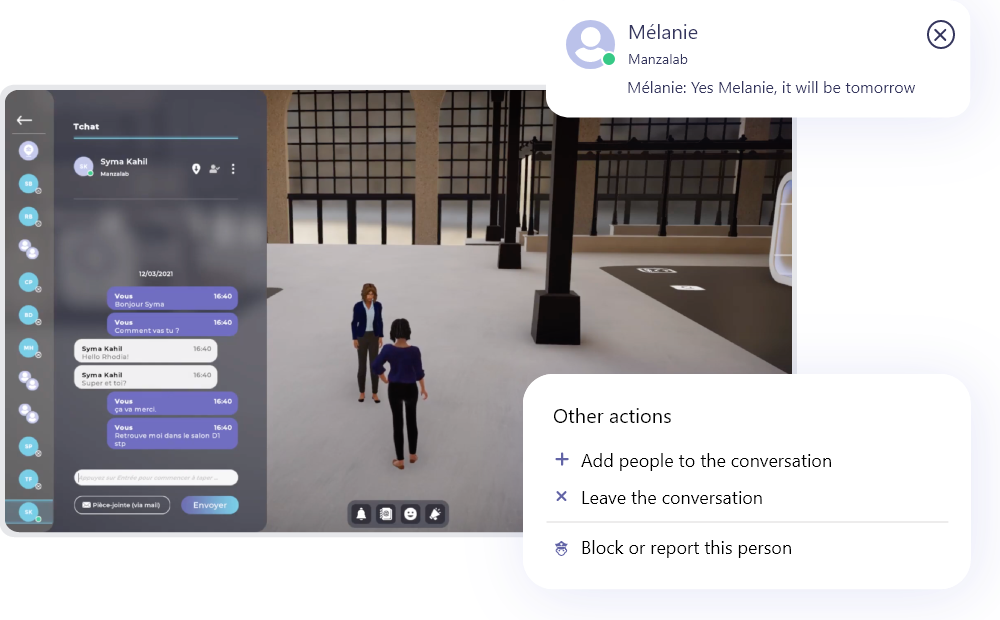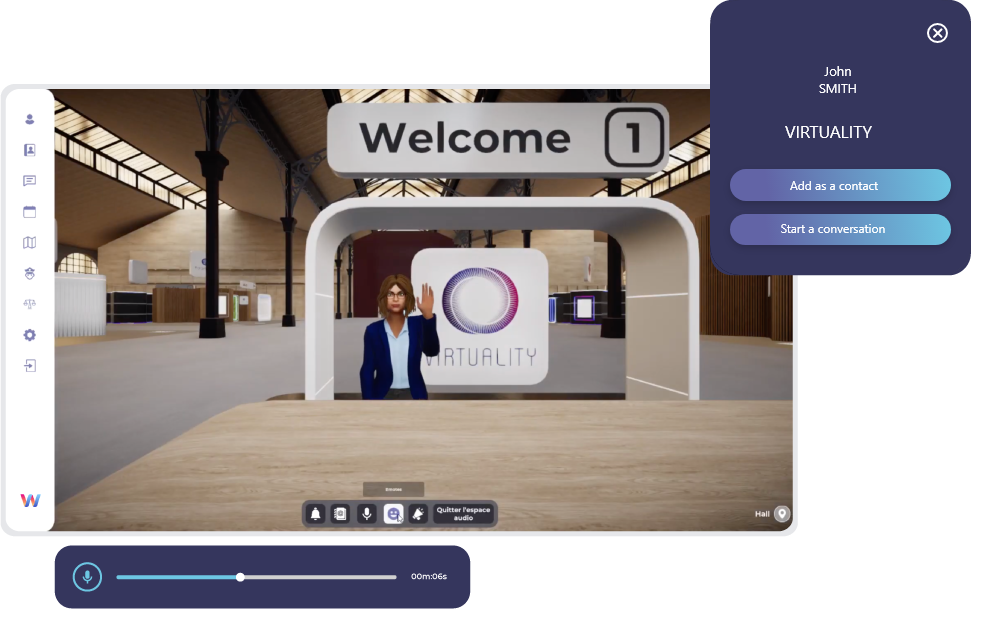 Enjoy a fully modular space, adapted to your teams, partners and clients.
Interact with people simply by clicking on their avatar.
Welcome your visitors, broadcast public announcements in your hall.
Recreate people links and feeling of team belonging, thanks to Virtual Presence.
Use virtual meeting rooms, from 4 to 14 people, or informal chat spaces. Improvise a work session in a dedicated space.
Invite your clients and partners to your personalized showrooms.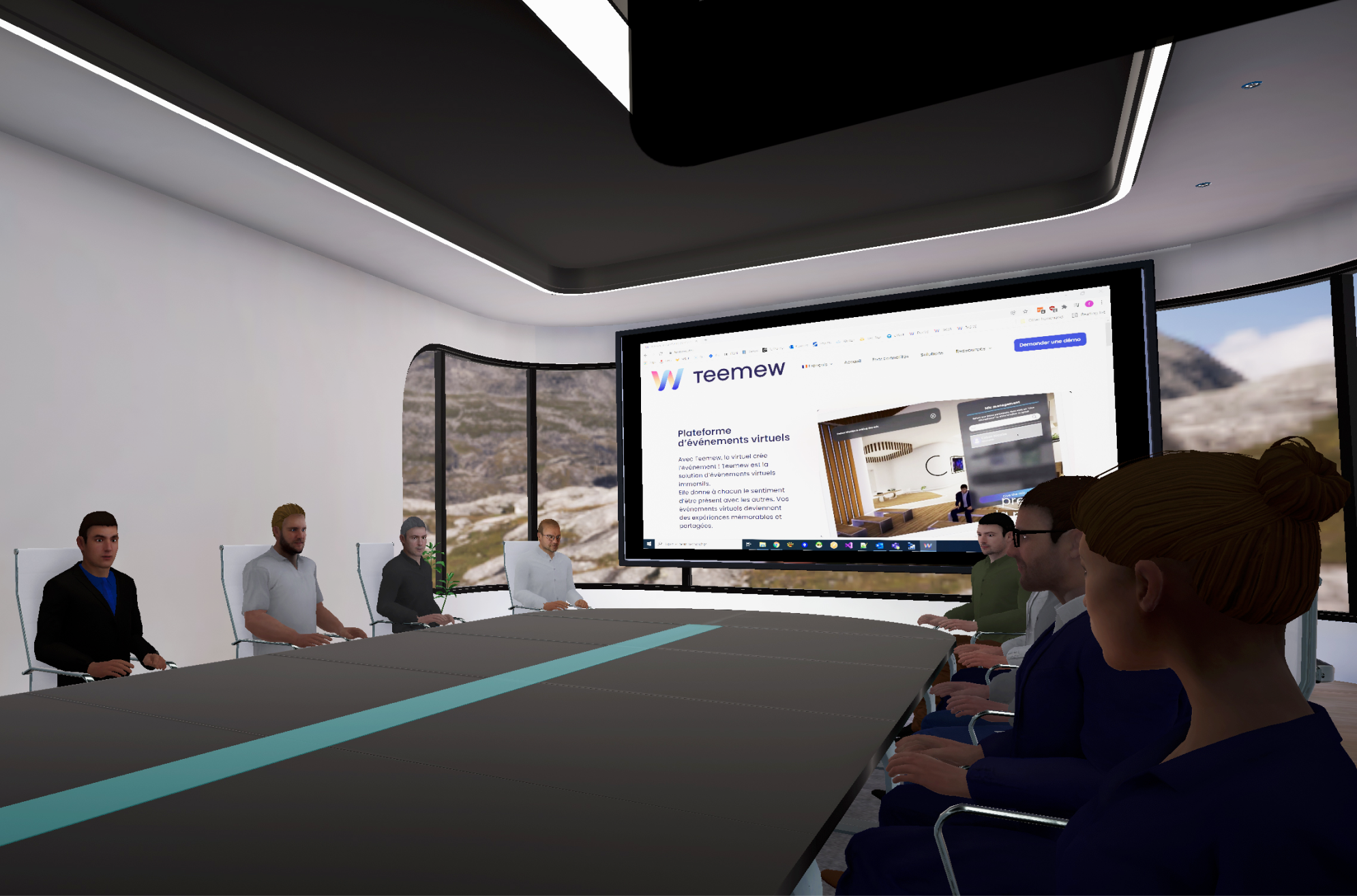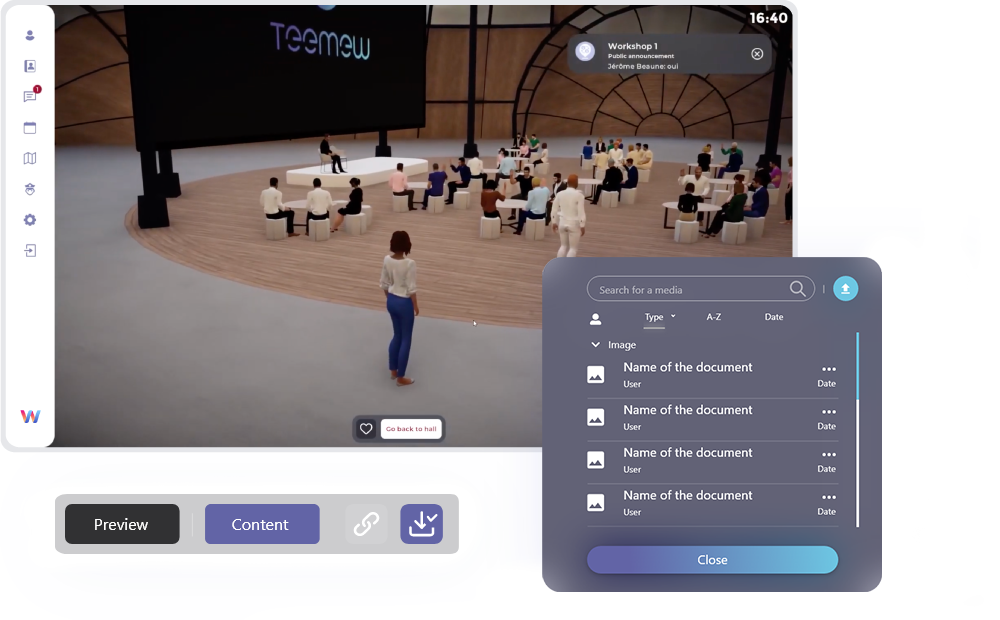 A platform allows speakers to broadcast the same information to all participants
To work in small groups, groups can gather around tables each equipped with a screen
Showrooms are available in several sizes and styles
Choose the style of showroom that suits you: neon for a tech world, nature for a zen and streamlined world, and corporate for a more professional world etc.
The showrooms offer several areas: reception, presentation room for 12 people, discussion areas, private meetings by invitation, etc.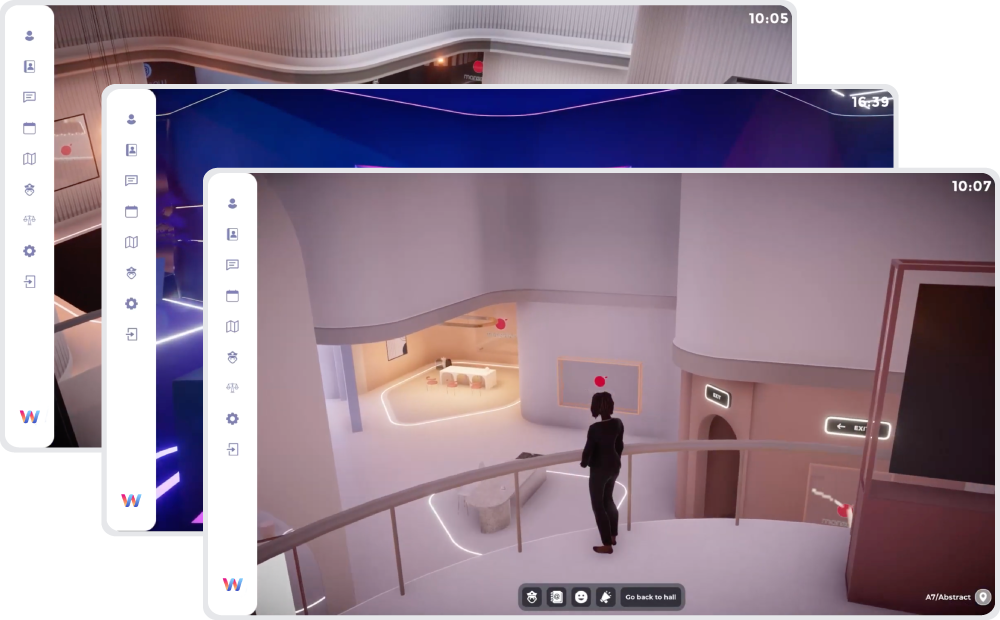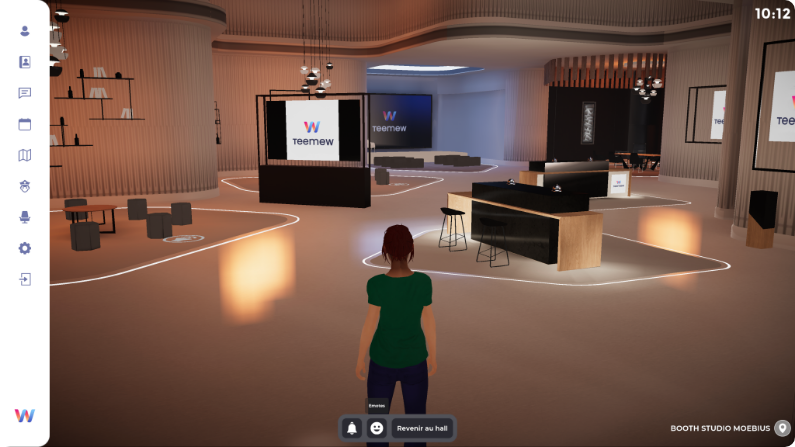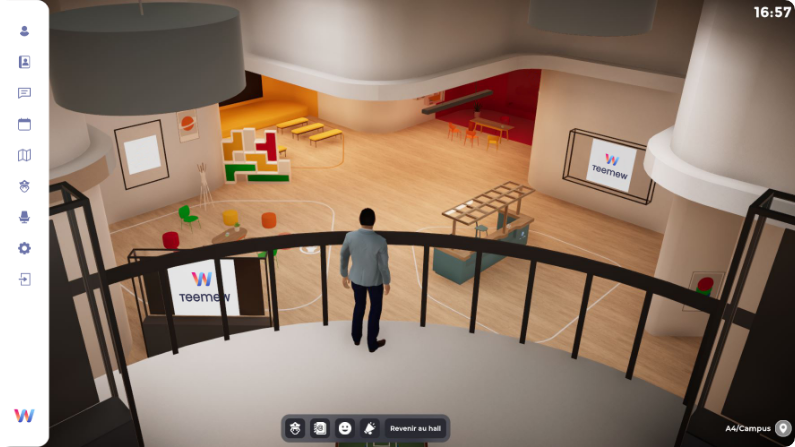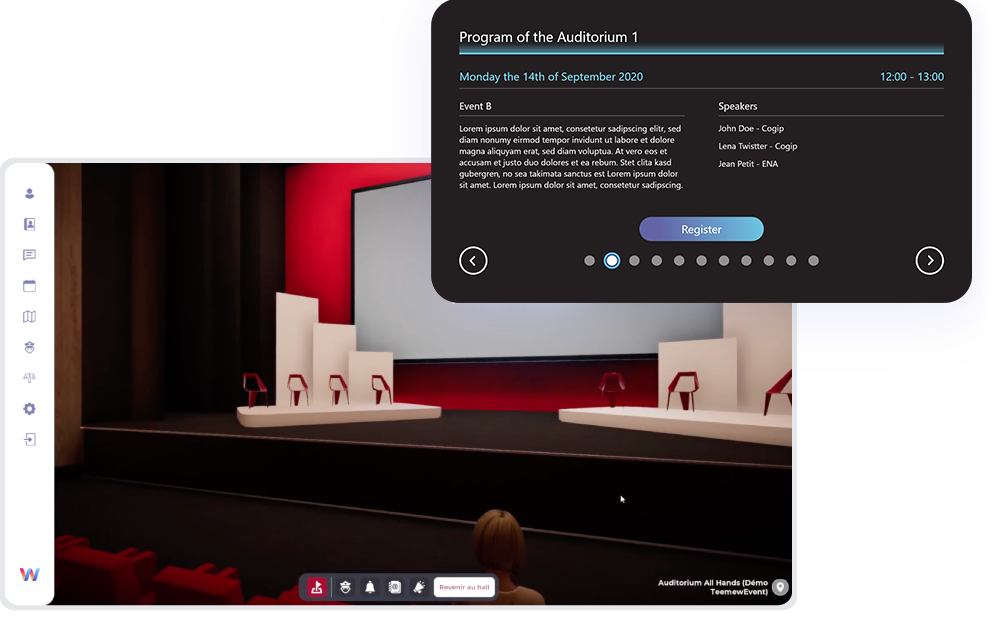 You can register on the calendar
You can see upcoming presentations: a notification will tell you when the event you have registered for is about to start
You can teleport directly to the auditorium
Once in the auditorium, the conference is hosted by one or more presenters who speak and share content
You interact with the presenters via written chat
Display screens allow you to view videos, photos, or PDFs to learn more about the exhibitor
Participants can like, download or share content that interests them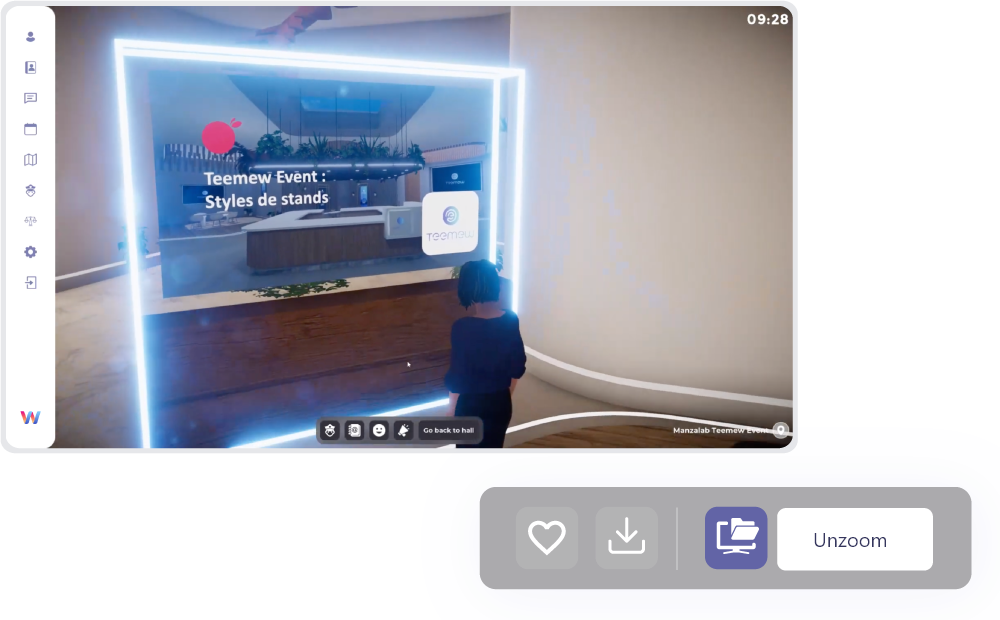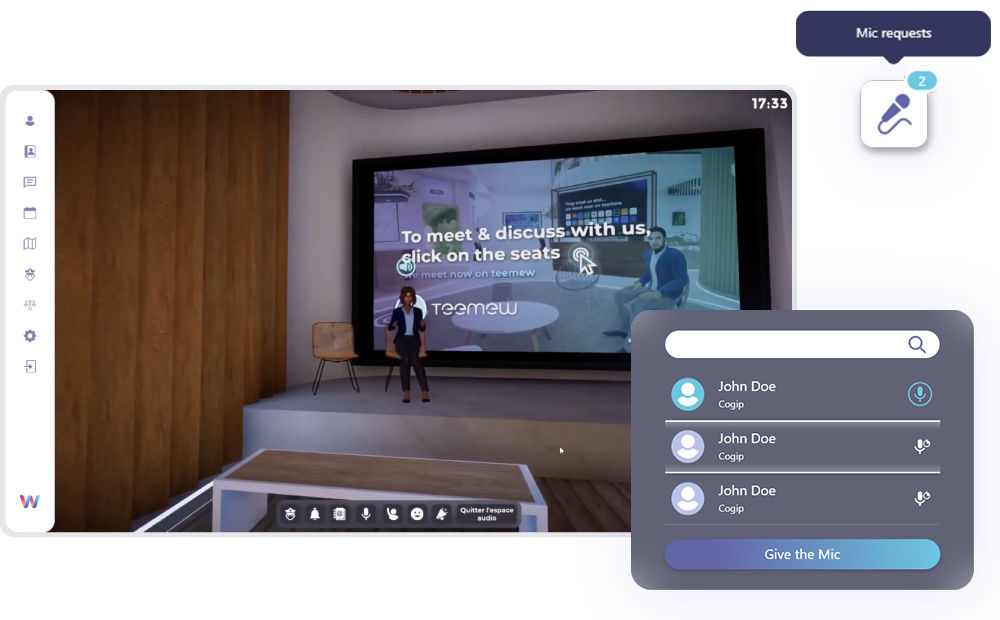 The presenter can share various content
Participants can request to speak by pressing the hand icon
The presenter can give the floor to those who request it
Access all your metaverse stats through a dedicated interface: number of users, their activity, shared media.
All the data is anonymized and secured. But it gives you great knowledge on the use of your virtual spaces.